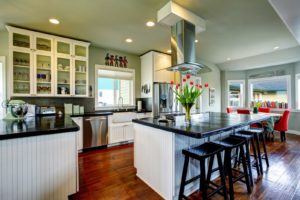 Hamilton is a neighborhood located within Baltimore. It is an integral part of the history of the city, with a lively community to go with it. Filled with so much character and charm, each home in Hamilton deserves the top appliance service to keep it running all year long! Landers Appliance has become the trusted company for appliance service in the community for a reason!
Landers is Your Appliance Service Guide
We believe that the customer experience should always be a top priority. Finding the right appliance service can be stressful and overwhelming, so we want to ensure that you feel happy and comfortable throughout the entire appliance service process. No matter what appliance needs fixing or what brands you have in your home, we are here to help and keep your home running smoothly all year long. 
We also know that you might have a lot of questions and concerns for us and about our appliance services. Our team of experts is here to address all of your questions and concerns about brands, smart features, energy ratings, and more. It is our job to give you the best appliance service you can imagine!
We Are Trained Experts Who Are Ready to Help!
Landers Appliance is Maryland's only fully certified appliance service center! We are the go-to, trusted company for the Hamilton community because we are the experts people trust and return to for appliance services. If your decision comes down to which appliance service team is most knowledgeable, and has the credentials to back them up, we are the team for you! We believe the best way to succeed is to provide the best quality service and build a loyal base of customers who know they can rely on us in the future. 
Are Your Appliances in Tip Top Shape in Your Hamilton Home?
Your Hamilton home has a lot of character, and we think it is important to respect that and help maintain it with quality appliance service during every visit. The history of your home can be preserved, while your appliances are repaired and replaced as needed. We provide the best appliance services to maintain, repair, and eventually replace appliances as needed. We work with a large variety of different brands to ensure that we can help any customer and every home!
It Is Time to Invest in Professional Appliance Service
Have you noticed that your appliances are working differently? Do they seem faulty or damaged? It might be time to give us a call! We recommend calling as soon as you notice early signs of damage. The longer you wait, the worse the problem will get. If we can get ahead of the problem, then your repairs will be quicker, cheaper, and less of an inconvenience. Our team of experts will help survey the problem and always make the process as stress-free as possible!
Get in Touch With Landers Appliance Today for the Best Appliance Service Team in Hamilton, Maryland! Give us a call at (410) 682-3232 or learn more about how we can help online.