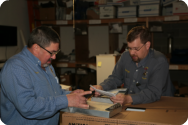 The Appliance Repair Team You Need in Crofton
Landers Appliance is the Crofton community's go-to team when something is amiss with the appliances in your home. We are a trusted team of experts that can help bring your appliance back to like with the best appliance repair service in the area. The days of sifting through DIY tactics and scratching your head trying to figure out what went wrong are over. We will come to your home, figure out the problem, and fix it efficiently and correctly. With our help, you will be spending less time worrying about your appliance and more time living your life!
Appliance Repairs? Don't Wait!
For years, we lived without appliances. People had to go grocery shopping more often because refrigerators did not exist. Clothes had to be put out on a clothesline or laid out around the house before we had dryers. And cleaning up after a meal was a chore before we had dishwashers. Today, we definitely take our appliances for granted. They are an easy convenience that is just another part of the American household. Don't get stuck back in the old days when you appliance breaks! Landers Appliance is here to complete efficient appliance repairs quickly and for an unbeatable rate. 
Landers Top Appliance Tips 101
Sometimes your Crofton appliances may be acting faulty for an inexplicable reason, and they just need a quick fix to put them back on track. Our team has ample experience in the appliance service industry and we know all the tips and tricks to help you. If these small fixes do not work, then you know it is time to bring in our team of experts onsite to determine the problem and promptly repair it! 
Make sure the unit/appliance is plugged in and turned on.

If it is not running at all, check to see if the power outlet is the problem. Check the power source by plugging in a lamp. 

Check the circuit breaker/fuse to see if it is tripped or blown. .

Reset the circuit breaker or replace the fuse and test the appliance again.

Reset the breaker even if it is not visibly tripped. 

Make sure the water supply valve is turned on and the machine is getting water to it.

Make sure the door/lid is unobstructed from opening and closing properly.

Make sure you are following the recommended loading and operating procedures printed in your appliance's user guide.

Make sure you have performed all the suggested maintenance steps listed in the user guide for your appliance.
Repairs or Replacement?
To repair or to replace? That is the age old questions when it comes to your Crofton home's appliances. The problem is there is no good way to know until an appliance service expert comes to take a look at the faulty appliances. First, we will consider a repair, but it all depends on the appliance's age and what the issue is. Sometimes appliance repairs may not seem worth it because the appliance is old. Depending on these factors, it does make sense to opt for the bigger budget and invest in a brand new appliance. The sooner our team can be onsite to look at your appliance, the sooner you will have your answers! Naturally, we will discuss all of the options and help guide you through the decision. 
Contact Landers Appliance for the Best Appliance Repairs in Crofton, Maryland
Do not wait for your appliances to get worse or completely break down! Call Landers Appliance now at (410) 682-3232 or learn more about how we can help you online. We are the team you want by your side when appliances start to go sideways.