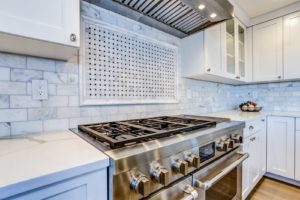 When Is It Time For Appliance Repair?
The time for an appliance repair is honestly the moment you first see a problem. The sooner you get a team of professionals in your home to survey the problem, the cheaper the fix and the faster it will be working again! Appliance problems that go unfixed will only get worse and you take the risk of an issue growing bigger. Appliances can truly make or break your home, a small problem could turn into a catastrophe before you know it. A small leak from the dishwasher could quickly turn into a full flood. Or one of your vital appliances could stop working altogether and be too far gone for a simple appliance repair. Instead of being forced to invest in a full appliance replacement, invest in an appliance repair with Landers Appliance as soon as a problem arises!
Why Choose a Team of Experts?
You may have a bookshelf full of DIY appliance tips, but it is a huge risk to try fixing an appliance without a professional. Our team is fully staffed with the best appliance repair professionals, all trained and ready to help you! Take advantage of our team's ample experience and expertise instead of rolling the dice with a DIY repair that could make things worse or be a temporary fix. We know that you have a budget, and we will work with you to do what is necessary to fix your appliances properly and keep your house running smoothly without breaking the bank. In fact, investing in an appliance repair now may save you money in the future because you are keeping your appliances happy, healthy, and avoiding an immediate replacement. 
What Kind of Appliance Repairs Can We Help With?
We have served the Glen Arm area for more than 30 years! We can repair residential and semi-pro products from tried and true brands to state-of-the-art appliances.  We are not an ordinary service provider. We train and retain a staff of master technicians who are available for all manner of appliance repairs and maintenance. Our knowledge of brands, parts, and types of appliances has kept customers returning to us for decades, and then sending us their growing families as customers. New generation appliances, including retro-looking appliances, include features and characteristics that require Master Technicians. 
Contact Landers Appliance for the Top Appliance Repair in Glen Arm, Maryland! Give us a call at
(410) 682-3232
or learn more about how we can help
online
.