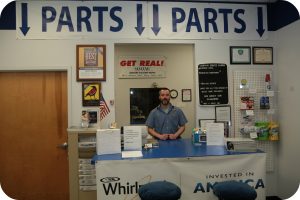 A Home With History is Bound to Have Appliance Repairs
Federal Hill is a popular, historic area in the heart of Baltimore City. Located close to the harbor and the actual "federal hill", it is an ideal location to move and settle down in a historic Baltimore home. Since Federal Hill, and the city itself, is steeped with so much history, it makes sense for your home to need appliance repairs. Instead of trying to fix things on your own and going with a subpar appliance repair company, go with Landers Appliance! We are the top appliance repair team in the community, and always deliver reliable, efficient services.
The Beauty of Old Appliances
Federal Hill is full of beautiful historic homes with amazing architecture, but appliances don't always hold up against the test of time. Landers Appliance can help repair your appliance, no matter the age, or make the decision to upgrade to something new, while still keeping your home's eclectic charm intact. We have the training and expertise to figure out what the problem is and fix it in a timely manner. People consistently trust us with their homes, and we take that responsibility very seriously. 
Appliance Service For All Brands!
Whether the brand is an old one or a brand new one, Landers Appliance is here to offer the best appliance service you could want for your Federal Hill home! We take pride in our appliance services being offered for all brands of major household appliances that are generally found inside homes. This includes residential built-in appliances and any other high-end boutique brands. Naturally, we also service all of the popular and common brands that you will immediately recognize.
Life Brings Many Stressors, Appliance Repairs Shouldn't Be One of Them
Wisdom comes with age, and while we know that there are a lot of repair options on the market, Landers Appliance is backed by over 35 years of experience! Our trained technicians are experts in the field, and they're eager to help you keep your home in its best condition. Let us take the stress of a noisy, broken appliance off your to-do list!
Need an Appliance Upgrade?
Sometimes a repair isn't always an option. Although we always strive to repair your existing appliance, it might be time for an upgrade. At Landers Appliance, we also sell semi-pro and smart appliances to replace your old ones and give your house an upgrade. Through years and years of usage, your appliances start to show signs of wear and tear, especially in older homes. That is why we specialize in pairing amazing customer service with the best appliance match to ensure that you always walk away satisfied! Appliances don't have to stick out in your home. With the right appliance repair and service experts, they will blend right in and be your new favorite part of the house.
Preserve the historic charm of your Federal Hill home with the Best Team for Appliance Repairs! Get in touch with us today
through a quick email or phone call.
Don't wait for you appliances to get worse. Invest in the appliance repair team that is eager to deliver the best services and work with you to keep your home running at its best. Happy appliances make for a happier home!