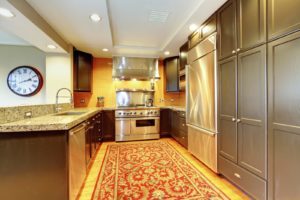 At Landers Appliance, our team's mission is to always deliver "Honest, Reasonable and Reliable" help during every appliance service that we offer in and perform for each customer in Arnold. You can trust us to deliver the best, lasting appliance service every time we visit your home! Our appliance service team is the best among the Arnold community for a reason! Customers who have experience with us tend to spread the word and consistently return to us when they have future appliance issues.
Appliance Service May Be More Urgent Than You Think
Appliances make the world go round and bring some much-needed convenience and comfort to your household. It is easy to take the refrigerator, dishwasher, or dryer for granted… but go a few days without them and you will take notice. Go a few weeks and it may feel like your life has been turned upside down. Appliances are a vital part of our lifestyles today, which is why it is best to have an appliance service team by your side when emergencies happen!
What Type of Appliance Service Do You Need?
If it is a household appliance, then we can provide top notch service to repair or replace it. We proudly provide in-home appliance service for all major household appliances and brands! Take a look at some of the basic appliances we can fix up for you…
Washers

Dryers

Dishwashers

Wall ovens

Cook tops

Microwaves

Disposals

Refrigerators

Freezers

Gas grills

Wine coolers

Ice makers
You probably didn't realize just how many appliances you have in your home! A lot of people do not realize how convenient and easy appliances make their lives until they are broken or in need of services. That is why our team of appliance service experts is here to help keep your home running smoothly!
Why Landers Appliance?
Instead of trying to DIY your appliance services, we recommend trusting in the best team for professionally done appliance services in Arnold, Maryland. We are Master Certified Technicians who are genuinely excited to assist you and your home's appliances!
Quality Appliance Service is Our Duty
There is a reason people trust us for top-notch, reliable appliance service… We always back our words with great customer service and reassurance for future appliance repairs. If we fix an appliance and it breaks again during our ninety-day warranty period, we will come back and figure out what went wrong. If the breakdown has anything to do with the original repair, we will fix it for free! If the machine needs another repair altogether, we will treat the service as if we had diagnosed both problems at the same time and price it accordingly. This ensures that you will always have your appliance working in tip-top shape, and you can always rely on us for honest service!
It's All in the Training!
We are also well-trained and equipped to handle whatever your appliances may throw our way. The technicians at Landers Appliances sit for many hours with appliance manufacturers to learn the best ways to diagnose and fix problems with their units. There are very few Master Certified technicians in the country, and luckily we have a company filled with them! Rest assured that when you call our company for appliance services you are always in professional, competent hands.
Contact Landers Appliance for the Best Appliance Service Team in Arnold, Maryland! You can get in touch with us
online with a service request
or reach our office at
(410) 682-3232.