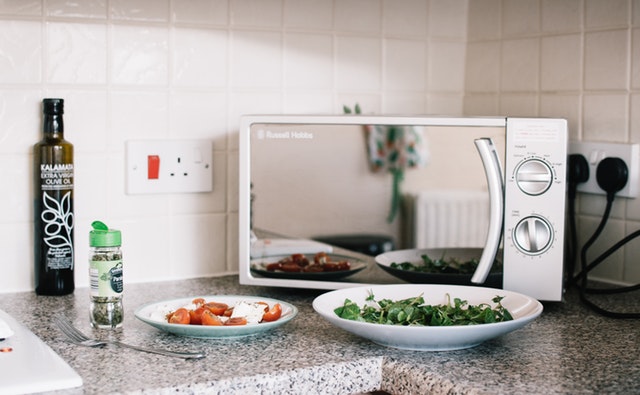 The microwave is notorious for getting those sticky, hard-to-remove grimes. Even if you've got the elbow grease, sometimes another spot sneaks up right after you thought you were through. You don't have to worry about missing spots or have to work up a sweat again; several ways to clean your microwave are simple and effective.
Lemon 
One popular and powerful method is to use a lemon or other citrus fruit. Take a microwavable bowl or cup and fill it with water. Cut a lemon in half and squeeze some of the juice into the water. Then add the lemon halves. Microwave this bowl with its contents on high power for five minutes or until the water boils and let it sit for another five minutes. Take the bowl out and wipe your microwave's interior. All those oily and sticky bits should come off with ease.
Vinegar
White or apple cider vinegar is also proving more and more to be a potent cleaning solution. Similar to the lemon method, you can add a tablespoon of vinegar to a cup of water and microwave it for five minutes. After another five minutes, you can easily wipe your microwave down thanks to the help of vinegar steam.
Baking Soda
One can use baking soda to clean a microwave in different ways. Some use a solution of two tablespoons of baking soda and a cup of water to steam their appliance. Microwave the solution for three minutes, and the microwave will become odor-free and easy to clean.
Another method, concerning gunk on the floor and turntable of the microwave, is to create a paste of one part water and two parts baking soda. Apply this to a sponge or washcloth and scrub away excess food dirt.
All Together
Lastly, some people take the baking soda and water solution to another level by adding lemon or vinegar to it. A cup of water, a few tablespoons of diluted baking soda, and some vinegar or lemon slices, microwaved on high power and left to sit, can also create a pleasing, aromatic sauna in your dirty appliance. Whether you use one method or combine them, they all will make your cleaning much easier.
Contact Landers Appliance Today!
We really care about our customers! Everyone at Landers Appliance is committed to providing you with Honest, Reasonable, and Reliable service in everything we do! We train our team to strive for excellence, performing to the highest professional standards. And if we ever fail to deliver on these promises, we'll apologize and do our best to make it right.
We service the entire Greater Baltimore Area, including Anne Arundel, Baltimore, Carroll, Harford, and Howard Counties as well as Baltimore City. Call our office before 12:00 pm weekdays at 410-682-3232, or find us at Facebook, Twitter, and Linkedin. "We'll go out of our way to provide you with the best service you've ever received."