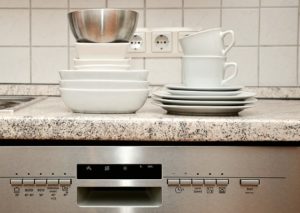 Today, the lifespan of a dishwasher is about 10-12 years. A decent model will last us for a significant time. However, there may come a point along the way where something goes wrong. If so, you're not alone. Sometimes the issue is as simple as a bad dishwashing practice, something to ask a professional repairman to solve, or an issue you can resolve yourself. 
1. Your Dishwasher Doesn't Turn On
If your dishwasher doesn't turn on, check to see if it's a problem with the home's electricity first. Is there a blown fuse? Replug the appliance if needed. It could also be that the door is not closing properly. In more severe cases, the motor could be stuck, or one of the machine's parts is malfunctioning. In the worst cases, call a professional to handle it safely.
2. It Isn't Filling with Water
Of course, your dishwashing machine needs water to do its work. However, if no water is entering the machine, you may have a problem with your float valve or float switch. These parts control the amount of water that fills it. If that is not the issue, it could be that the dishwasher door is open or thinks the door is open when it is not.
3. It's Filling with Too Much Water
It is no less pleasant when your dishwasher fills up with too much water. It can lead to one soapy kitchen floor! If your machine is simply leaking, check to see if something is lodged in the gasket or if it has any cracks where water can seep through it. On the other hand, if it is overflowing, you may be overloading it. Otherwise, the float switch, timer, or float valve may be the cause.
4. Your Dishes Come Out Wet
A dishwasher is supposed to dry your dishes as well as wash them. If they are still dripping wet when you open the door, it could be that the heating element or high-limit thermostat in the machine are not working. Also, check that there is rinsing aid in your rinse aid dispenser.
5. There's Residue on Your Dishware
Perhaps the most common dishwasher problem is that the dishes are still dirty, or have a residue on them. First, make sure you're not overloading the dishwasher. Also, are you scraping off excess waste before loading? Next, check if the machine itself is dirty. If all is clear, you may want to clean the filter. If you have white residue on your dishware, you probably have hard water, which special detergents can help. 
Contact Landers Appliance Today!
We really care about our customers! Everyone at Landers Appliance is committed to providing you with Honest, Reasonable, and Reliable service in everything we do! We train our team to strive for excellence, performing to the highest professional standards. And if we ever fail to deliver on these promises, we'll apologize and do our best to make it right.
We service the entire Greater Baltimore Area, including Anne Arundel, Baltimore, Carroll, Harford, and Howard Counties as well as Baltimore City. Call our office before 12:00 pm weekdays at 410-682-3232, or find us on Facebook, Twitter, and Linkedin. "We'll go out of our way to provide you with the best service you've ever received."