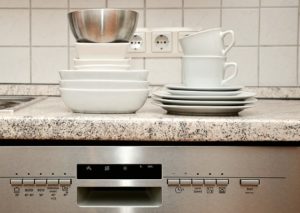 If you are looking into getting a new dishwasher, you may be confused or overwhelmed by your choices. Dishwashers today have numerous new features and functions of which the average consumer may not be aware. To make the top dishwasher features of 2019 clearer, below is an overview of these options are.
Wash Cycles
Older appliances only had three washing cycles for light, medium, and heavy loads, but today, you can tune your dishwasher to the kind of clean you need. Whether you need a delicate rinse, a powerful wash for pots and pans, or major sanitization, a newer dishwasher is likely to carry that feature. Some dishwasher features include cycles for washing half a load, prewashing, and washing quickly. The TurboZone Reach feature by Kenmore and the Waterwall system and Zone Booster feature by Samsung are good examples of today's wash cycle technology.
Efficiency
Efficiency is another facet of the dishwasher that manufacturers have honed in recent years. Dishwashers are now able to sense how dirty your dishes are and how much time it will take to clean them. These are called soil sensors, auto clean, or smart sensors. Some dishwashers will recycle leftover clean water from the previous load and save up to 33% on the water bill. KitchenAid has this recycling feature, named AquaSense Recycling. Meanwhile, Kenmore's SmartWash HE Cycle is a prime example of the soil-sensing dishwasher feature.
Quietness
Dishwashers are also a lot quieter than they once were. If your dishwasher runs at more than 50 decibels, the 2019 market will consider that loud. Today, you can purchase a dishwasher running as quiet as 40 decibels. That's as loud as the sound of bird calls, ambient urban noise, or a babbling brook. LG Signature and GE Monogram are recommended appliances on the market for this quietness.
Extra Perks
Like many products and services these days are all about customization, so dishwasher features are becoming more so. Kenmore, GE, and others are producing customizable racks and even including third racks for extra dishes and silverware. Some brands include bottle jets to clean out the insides of baby bottles and water bottles, and some can hook up to Wi-fi and run only during the time of your neighborhood's lowest energy consumption to save you money. Depending on what works best for you, there are plenty of features that can fit your dishwashing needs.
Contact Landers Appliance Today!
We really care about our customers! Everyone at Landers Appliance is committed to providing you with Honest, Reasonable, and Reliable service in everything we do! We train our team to strive for excellence, performing to the highest professional standards. And if we ever fail to deliver on these promises, we'll apologize and do our best to make it right.
We service the entire Greater Baltimore Area, including Anne Arundel, Baltimore, Carroll, Harford, and Howard Counties as well as Baltimore City. Call our office before 12:00 pm weekdays at 410-682-3232, or find us on Facebook, Twitter, and Linkedin. "We'll go out of our way to provide you with the best service you've ever received."