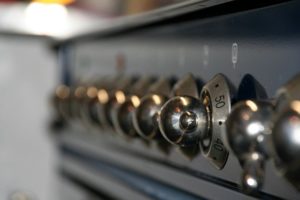 Back in the 20th century, manufacturers used to make ovens that could last the span of a child's growth from infant to adult. They were made of heavy metal and were durable and practical. These days, ovens have become more sophisticated with a greater ability to control cooking temperatures. They are made of lighter, thinner metals and may have a computer inside of it. Because of this advantage, ovens only last about 13 to 15 years. Still, there are several ways you can help extend your oven's lifespan.
Clean the Oven
Perhaps the simplest way to take care of your oven, whether it is electric or gas, is to clean it. Make sure not to spray cleaner on the knobs, as the liquid could get inside the stove and damage the electric controls. Over time, the build-up of grease and food particles inside the oven can make the stove work harder than it should. This overexertion will shorten the oven's lifespan.
Don't Use the Self-Clean Feature
While it is good to clean the oven door, oven interior, and the drip pan thoroughly, it is also wise not to use the self-clean feature of your oven. The way self-cleaning works is not what you might think. Instead of a dishwasher-type situation, the method is entirely the opposite. The oven will heat up to 500 degrees to burn off any dirt or germs inside it. Using heat is a proven way to clean and sanitize something, but doing so repeatedly will tire out your oven. Heat can damage the controls, the door, and basically any part of the appliance if used too often.
Repair When Needed
It is common to run into one problem or another with your oven in the course of its lifetime. There are various but normal oven problems, such as insufficient heating, no heat, a door that won't shut, or a blown-out interior light. The best way to keep your oven in good health is to treat minor issues right away. Keeping on top of minor problems will prevent you from encountering a major oven repair in the future.
Have a Warranty
Even so, it is always smart to have a warranty for your oven. A warranty will save you hundreds or thousands of dollars in the case of a repair or replacement. Should you need an appliance repair or replacement in Maryland, however, look no further than Landers Appliance!
Contact Landers Appliance Today!
We really care about our customers! Everyone at Landers Appliance is committed to providing you with Honest, Reasonable, and Reliable service in everything we do! We train our team to strive for excellence, performing to the highest professional standards. And if we ever fail to deliver on these promises, we'll apologize and do our best to make it right.
We service the entire Greater Baltimore Area, including Anne Arundel, Baltimore, Carroll, Harford, and Howard Counties as well as Baltimore City. Call our office before 12:00 pm weekdays at 410-682-3232, or find us on Facebook, Twitter, and Linkedin. "We'll go out of our way to provide you with the best service you've ever received."