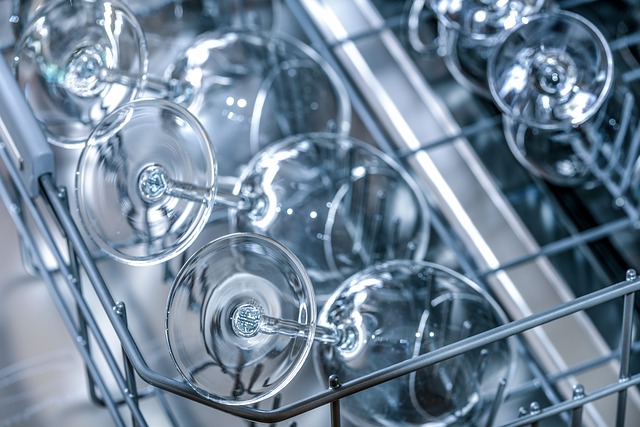 It can be truly disconcerting when the dishwasher of all things starts to smell funky. Whether the smell is food or mildew, neither are pleasant, and the cleanliness of future loads are at stake. With the methods below, you will be able to have your dishwasher's sanitation fully restored.
Exterior Wipe
While this step does not nail the problem on the head, it is a step to cleanliness that is worth noting. Its health is dependent partly on its exterior as well. To clean the dishwasher's front best, spray a solution onto a paper towel and then wipe. Spraying a solution directly onto the panel could damage the electric controls. 
Vinegar Steam
If your home uses hard water, you will more likely experience the issue of a discolored dishwasher interior. Over time, a build-up of grime can cover its walls and racks. This may also be why the dishwasher has accumulated a funny odor. Vinegar steam is a potent solution. Place a cup of white vinegar in the middle of the top or bottom rack, and set the dishwasher on a regular cycle. The vinegar will make the grime come off with ease and cause odors to disappear.
Scrub Down
If your dishwasher has mildew, a good scrub-down will be in order. Take out the racks and wipe them down with hot, soapy water. Wipe the interior of the dishwasher and remove any build-up of gunk around the filter. Add enough water to some baking soda to make a thick paste, and use a scrub brush or toothbrush to remove dirt from the surfaces. To be absolutely thorough, you may want to remove the dishwasher's filter and wash it separately with hot, soapy water.
Minimal Dirt
To avoid having to do a deep clean too often, there are a couple ways one can keep the dishwasher cleaner on a regular basis. First, don't let dirty dishes linger in the machine for any longer than is necessary. Once the load is full, set the cycle and put away.
To Pre-rinse or Not
For newer dishwashers especially, it is best not to pre-rinse dirty dishes. Pre-rinsing is unnecessary because these machines are sufficient to do the job. Plus, some may sense that there is less grime on the plates and actually clean less thoroughly than desirable. If your dishwasher is sufficient to clean your dishes without the extra help, then you can save some water. 
Contact Landers Appliance Today!
We really care about our customers! Everyone at Landers Appliance is committed to providing you with Honest, Reasonable, and Reliable service in everything we do! We train our team to strive for excellence, performing to the highest professional standards. And if we ever fail to deliver on these promises, we'll apologize and do our best to make it right.
We service the entire Greater Baltimore Area, including Anne Arundel, Baltimore, Carroll, Harford, and Howard Counties as well as Baltimore City. Call our office before 12:00 pm weekdays at 410-682-3232, or find us at Facebook, Twitter, and Linkedin. "We'll go out of our way to provide you with the best service you've ever received."