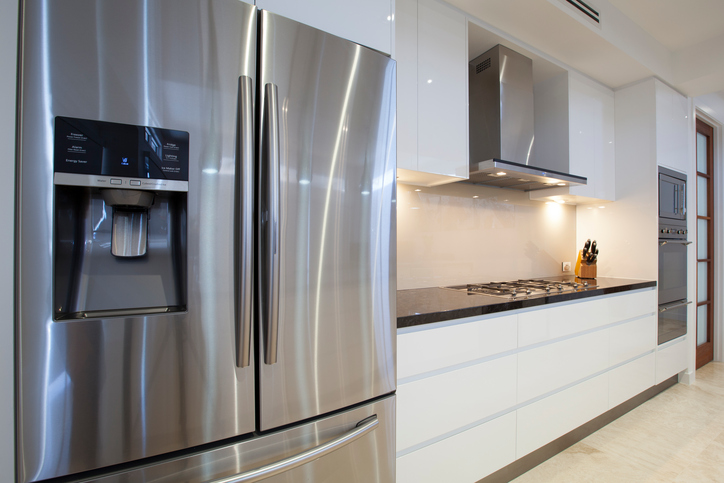 When choosing a new refrigerator, the decision may seem simple enough. Yet when one looks at all the brands and models available, it can get easy to become slightly overwhelmed. Have no fear! These following five considerations for your refrigerator will help you choose the best one for you.
1. Proportions
Proportions are everything when it comes to your refrigerator. Some are free-standing, and some are built into the cabinetry. With an appliance as large as a refrigerator, you will want to get the right measurements of your refrigerator space. You'll also want to decide if you'd like the fridge to be flush with the counter, or if it's okay for it to stick out some.
2. Style
While proportions are important, style will greatly affect how you use the refrigerator. There are four main types: French door, side-by-side, top freezer, and bottom freezer. With the French door style, you can have two opening doors for regular food and beverages on top, with a freezer door on the bottom. With the side-by-side style, the fridge will be on one side and the freezer on the other. The top freezer style is your standard refrigerator, while the bottom freezer kind can give a fashionable appearance. 
If you have back problems, a bottom or side freezer may be ideal for you so you don't have to bend down as much to retrieve everyday items. If you have a larger family, the style may affect the way you organize your provisions also.
3. Features
Speaking of organization, consider the features that you want and need for a refrigerator. Fridges can come with many bells and whistles these days, from the classic water and ice dispenser to a fun alarm that signals you've left the door open too long. More importantly, the fridge's arrangement of compartments like shelves and drawers needs to fit your lifestyle. If you buy a lot of produce, you'll want more drawers. If you buy juice, milk, and so on, you'll need adjustable shelves to store taller items. Don't forget the freezer in this process either; consider how much frozen food you buy and size accordingly.
4. Finish
Black matte finishes have been a popular choice for appliances this year, but everyone has their own tastes concerning the exterior. If you don't like smudges or dirt you can't see, black stainless steel won't be your choice. You can also match the finish to the style of your kitchen.
5. Functionality
Lastly, you must consider what type of refrigerator would perform the best in terms of movement. What side should the door swing open on? How easy is it to access the refrigerator in light of the kitchen space and flow? 
Contact Landers Appliance Today!
We really care about our customers! Everyone at Landers Appliance is committed to providing you with Honest, Reasonable, and Reliable service in everything we do! We train our team to strive for excellence, performing to the highest professional standards. And if we ever fail to deliver on these promises, we'll apologize and do our best to make it right.
We service the entire Greater Baltimore Area, including Anne Arundel, Baltimore, Carroll, Harford, and Howard Counties as well as Baltimore City. Call our office before 12:00 pm weekdays at 410-682-3232, or find us at Facebook, Twitter, and Linkedin. "We'll go out of our way to provide you with the best service you've ever received."