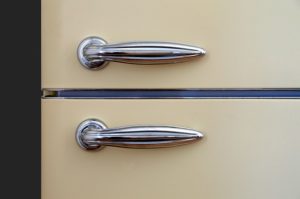 Once a new refrigerator goes into your kitchen, it is easy to think that it will stay there for good. However, these machines need more than just food inside of them. A fridge owner should also practice routine maintenance to keep it going strong. Thankfully, these tasks are not challenging and can take very little time to accomplish. Below are five ways to maintain your refrigerator.
1. Check the Seals
The sealing around your refrigerator and freezer doors, also known as gaskets, can grow loose over time. When they get loose, cool air escapes from your fridge and causes it to work harder, raising your energy bills. A good way to test how well your gaskets are working is to close a flat dollar bill in each door. If it stays in place, it is firm. If it slides down, call a professional to come to take a look. 
2. Clean the Coils
Dirty coils are a nefarious culprit for sapping a refrigerator's lifespan. They are located either on the back or the bottom, depending on the model. Dust and pet hair can collect on these over time, making your refrigerator exert itself more than it has to, and causing the failure of the machine sooner. 
Safely clean the coils, perhaps once a year, by first moving the fridge forward and unplugging it. Check to see where they are, and vacuum the dust from them if need be. If some dirt is too hard to reach, pick up a coil brush from the hardware store to make your coils shine like new. Clean the floor where the refrigerator usually sits before replacing it.
3. Clean the Drip Pan
Another important refrigerator part that may need occasional maintenance is the drip pan. This tray catches the condensation of frost that would naturally build up in the freezer. A drip pan is a place where the extra water can evaporate. Cleaning this will keep bacteria and odors from collecting. The drip pan is also a notorious collector of pet hair. 
4. Replace the Water Filter
Meanwhile, like the filters in water pitchers, so the water filter in your refrigerator needs replacing from time to time. You can help maintain your refrigerator by getting new filters from your manufacturer every few months or as needed. 
5. Keep the Fridge Full
Lastly, a refrigerator runs best when it is filled with goods, but not overly much. If you have more space in there than you need, store some fresh bottles of water inside. Using it for its intended purpose yet another excellent way to maintain your refrigerator.
Contact Landers Appliance Today!
We really care about our customers! Everyone at Landers Appliance is committed to providing you with Honest, Reasonable, and Reliable service in everything we do! We train our team to strive for excellence, performing to the highest professional standards. And if we ever fail to deliver on these promises, we'll apologize and do our best to make it right.
We service the entire Greater Baltimore Area, including Anne Arundel, Baltimore, Carroll, Harford, and Howard Counties as well as Baltimore City. Call our office before 12:00 pm weekdays at 410-682-3232, or find us on Facebook, Twitter, and Linkedin. "We'll go out of our way to provide you with the best service you've ever received."