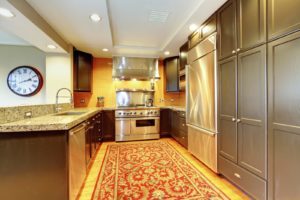 We tend to go throughout our lives with few resources for or much thought of repairing or mending what we have. If something breaks, we just tend to throw it out and get a new one. Kitchen appliances are one of these products that we use up and replace, without necessarily knowing that a malfunction may have a fix. Landers Appliance is an appliance repair company serving the Baltimore and Annapolis areas that can be there for you when your kitchen appliance needs repairing.
Save Money
Calling a professional appliance technician when the stove, refrigerator, dishwasher, or laundry machine breaks down can save you money in the long-run. In fact, repairing instead of replacing can save you a lot. To begin with, getting your kitchen appliance fixed will cost much less compared to purchasing an entirely new machine. Also, when the stove, dryer, or even microwave function as good as new again, your whole house benefits from the regained savings on electricity. While the product runs inefficiently, the energy will ramp up to compensate.
Quick Fix
Landers Appliance can save your day with a quick fix of your kitchen appliance. If you are preparing for a dinner party, living off of your microwave, or exasperated by the break in your laundry routine, Landers can pinpoint the problem with an expert eye and get your appliance running smoothly once more. You won't have to worry about choosing and installing a whole new machine.
Safety
When something goes wrong with a kitchen or laundry appliance, you might think you can troubleshoot the issue yourself. In some cases, you may be able to. However, you must be careful about dealing with electricity. For your safety and your appliance's safety, call a professional to avoid injury or further damage.
Professional Job
Lastly, it is best for an expert of the trade to help you keep your kitchen running its best. A professional can figure out what the problem is in a short time and solve the problem just as swiftly and confidently. Whatever appliance it is, a professional repair company can make it right again. 
Contact Landers Appliance Today!
We really care about our customers! Everyone at Landers Appliance is committed to providing you with Honest, Reasonable, and Reliable service in everything we do! We train our team to strive for excellence, performing to the highest professional standards. And if we ever fail to deliver on these promises, we'll apologize and do our best to make it right.
We service the entire Greater Baltimore Area, including Anne Arundel, Baltimore, Carroll, Harford, and Howard Counties as well as Baltimore City. Call our office before 12:00 pm weekdays at 410-682-3232, or find us at Facebook, Twitter, and Linkedin. "We'll go out of our way to provide you with the best service you've ever received."