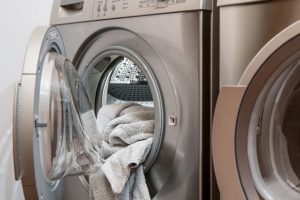 Technology in the household appliance industry has advanced considerably over the past few decades. Today, one can get an appliance that is more energy-efficient than ever, not to mention smart. Clothes dryers, though having a smaller selection of features than washers, are also prime examples of household appliance technology today. If you are looking for a new clothes dryer in 2019, you are in luck!
What to Consider for You
While you investigate the options out there, create a standard in your mind for what kind of dryer would best fit your household. One factor is power. Do you need gas or electric? If you are tight on space, you can also opt for a ventless dryer, which will collect the condensation into a tray that you must empty. The size of your household and your lifestyle will also determine your appliance's size and the features you prefer.
Samsung for Energy Efficiency
Samsung has come out this year with several top-ranked models for clothes dryers. Their 7.5 cu. ft. Gas and Electric models both make it on top for excellent efficiency. Both are spacious and are notable for their energy savings. Each has a broad range of settings from which to suit your laundry needs. The electric one, in particular, boasts settings for wrinkle prevention and odor removal.
LG for Luxury
LG is the brand for you if you are interested in top technology. If you are seeking a clothes dryer with all of the latest perks, their 9.0 cu. ft. 14-cycle model and 7.3 cu. ft. Smart model are your best choices for 2019. If you need a cavernous amount of space for your laundry, nine cubic feet may be for you, although 7.3 cu. ft. is also roomy. These two models feature Wifi-connectivity so you can monitor the drying and even download apps for cycles that are not part of the many options already available.
Maytag for Families
Maytag's 8.8 cu. ft. electric clothes dryer ranks best for large families looking for an energy-efficient and up-to-date machine. If you need to dry a load in record time, majorly sanitize, or keep drying quiet, this appliance is up to the task.
Amana for Affordability
If you are looking for a machine that will get the job done efficiently and simply, Amana is the brand for you. Their 6.5 cu. ft. electric model has an affordable price matched with shining reviews. If you are looking for a reliable dryer, choose Amana!
Contact Landers Appliance Today!
We really care about our customers! Everyone at Landers Appliance is committed to providing you with Honest, Reasonable, and Reliable service in everything we do! We train our team to strive for excellence, performing to the highest professional standards. And if we ever fail to deliver on these promises, we'll apologize and do our best to make it right.
We service the entire Greater Baltimore Area, including Anne Arundel, Baltimore, Carroll, Harford, and Howard Counties as well as Baltimore City. Call our office before 12:00 pm weekdays at 410-682-3232, or find us on Facebook, Twitter, and Linkedin. "We'll go out of our way to provide you with the best service you've ever received."