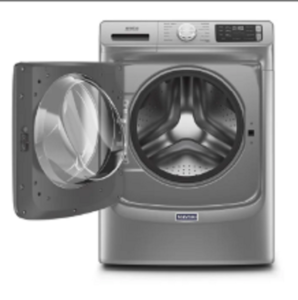 Typically, a washing machine that is older than ten years of age is ready to rest in peace. However, if your washer is acting unusual and it is less than that age, you will want to at least call the repairman. The washing machine problems below may be an indicator that it's time to dump it, but it may also be the case that it needs a simple repair by a professional.
Loud Noises
It is one thing to have a washer that runs louder than other appliances, but when it sounds like a hammer is pounding inside of it at every turn of the barrel, it's time to call for help. The drum may be offset, or something may be wrong with the motor. A professional can put the repair vs. replace debate to rest with an inspection.
Walking
If your machine shakes while it runs so much that it nearly does begin to run across the room, you may have an issue worth taking to a professional technician. But before you signal the alarm, consider how you are loading the washer. The imbalance could be due to an overloaded washing machine. The best practice is to fill it up with room for the clothes to breathe, so to speak. If this is not the problem, see if the machine is on level ground. If it is, the issue may lie with the washer itself.
Excessive Water
A leaking washing machine is perhaps the most common washer problem you may experience. The source of the issue depends on whether it is a top or front-loading model and where the leak is happening. A leaking machine may be the cause of a stopped pipe behind or under it, like the drainpipe or fill hoses. Alternatively, the fix may be as simple as an unsealed door, an overloaded machine, or an overdose of detergent. 
Not Enough Water
If your washing machine is not filling up with water, this means there is something wrong with the connection to the water supply, or that your home's water supply is amiss. Granted that the problem lies with the machine, check to see that its connection to the water supply is functional and that it is turned on. If it is, check the back panel of the machine, but remember to cut off the electricity beforehand to avoid electrocution.
A Musty Smell
On the other hand, if your washing machine bears a musty odor despite ventilating it well and cleaning off mold and mildew, it may be time for a replacement. If a problem persists after many repairs, it's time to let it go.
Contact Landers Appliance Today!
We really care about our customers! Everyone at Landers Appliance is committed to providing you with Honest, Reasonable, and Reliable service in everything we do! We train our team to strive for excellence, performing to the highest professional standards. And if we ever fail to deliver on these promises, we'll apologize and do our best to make it right.
We service the entire Greater Baltimore Area, including Anne Arundel, Baltimore, Carroll, Harford, and Howard Counties as well as Baltimore City. Call our office before 12:00 pm weekdays at 410-682-3232, or find us on Facebook, Twitter, and Linkedin. "We'll go out of our way to provide you with the best service you've ever received."